The local Portsmouth band pick up their acoustic guitars to bring traditional blues together with modern folk, while becoming known for their energetic live sets.
On the back of a successful headlining slot at Icebreaker Festival, Shoot the Duke were in touch following the release of their latest EP.  It may have taken Mr Teeth a little while to get around to listening to it, but the CD was worth the wait.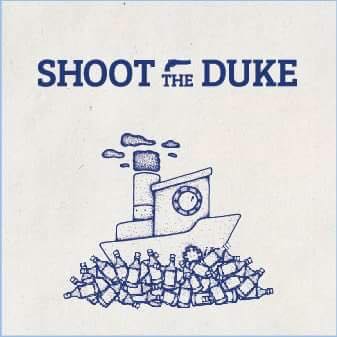 As the 7 track EP starts off with the harmonica led "Adelaide" you're already hooked. There's a lot of narrative writing throughout the lyrics, while the production captures a band live in the studio.
With the song "Nicotine", the Shoot the Duke EP reminds me of when I first heard the late 90's debut "Bring it on" by Gomez. They inject a bit of life into an age-old genre, but with the gravelly vocals of someone sounding beyond their years.
They're not writing about stereotypical blues topics such as their wife leaving, the dog dying or the fact it's raining outside, but as the title suggests, it's simply a song about smoking cigarettes. We're of course not trying to promote the habit, but Shoot the Duke are just passionately singing about something they can relate to.
Considering in essence this is the work of a 3-piece, they produce a great rhythm section. The percussion on the likes of "Cash" coming solely from the wooden Cajon, courtesy of Sam Weeks.
There are the odd touches of a Latino style guitar solo here and there, while "Sinking Ship" closes the EP with some more country, thigh slapping moments. It's these touches that help make Shoot the Duke more than just another acoustic act.
Last year the band played an array of roots and folk festivals with 2017 then kicking off with Portsmouth's very own Icebreaker. I'm sure the lads will have plenty more of these concerts booked for the summer. In the meantime, catch Shoot the Duke live at the Wedgewood Rooms on 15th April, or get your hands on a copy of the self-titled EP.